Get link

Facebook

Twitter

Pinterest

Email

Other Apps
Bismillaah
As Salaamu 'alaykum and Peace to all,
That day i was doing some reading in my room when i suddenly heard an eerie sound of wind outside my window. I peeped out and saw that it was dark outside and it was only around approximately 6 pm in the afternoon. I grabbed my camera and rushed outside to look at the sky. I was amazed of the beauty of the very dark and large clouds that was forming. The wind was strong enough that it was able to carry all light objects like leaves, cans etc with it. Beautiful. Very Beautiful. I suddenly felt myself at a new and unfamiliar level of feeling of intimidation, fear and humbleness which i have never felt before.
Before me is the display of the magnificence of Allaah's creation, His Wrath and His Power. I felt so small and insignificant, i felt so afraid and so scared. The images of our brothers and sisters facing Tsunami and Hurricanes flashes in my mind. Imagine their feelings at that time.
Many times in our lives, Allaah gave us some opportunities for us to feel His greatness and take heed. Today, that was my moment.
"I need to capture this!" I told myself. I know that i must capture that one chance of sign of Greatness of Allaah the Almighty on my camera so that i can always be reminded of how i felt that moment. And the pictures i posted here are among the ones i took and i would like to share them with all of you. Insya'Allaah.
Verily! In the creation of the heavens and the earth, and in the alternation of night and day, and the ships which sail through the sea with that which is of use to mankind, and the water (rain) which Allah sends down from the sky and makes the earth alive therewith after its death, and the moving (living) creatures of all kinds that He has scattered therein, and in the veering of winds and clouds which are held between the sky and the earth, are indeed Ayat (proofs, evidences, signs, etc.) for people of understanding. Surah Al-Baqarah : 164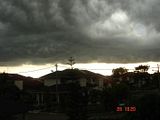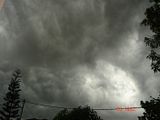 I remembered another time when i was amazed by the beauty of His planning. It was a story of Azan, the call for prayers to mark the start of a prayer time for Muslims.
Let me share with you the story...
Amazing as it sounds, but fortunately for the Muslims of the world, it is an established fact. Have a look at a map of the world and you will find Indonesia on the eastern side of the earth. The major cities of Indonesia are Java, Sumatra, Borneo and Saibil.
As soon as dawn breaks on the eastern side of Saibil, at approximately 5:30 am local time, Fajar Azaan begins. Thousands of Muazzins in Indonesia begin reciting the Azaan. The process advances towards West Indonesia. One and a half hours after the Azaan has been completed in Saibil, it echoes in Jakarta. Sumatra then follows suit and before this auspicious process of calling Azaan ends in Indonesia, it has already begun in Malaysia.
Burma is next in line, and within an hour of its beginning in Jakarta, it reaches Dacca, the capital ! city of Bangladesh. After Bangladesh, it has already prevailed in western India, from Calcutta to Srinagar. It then advances towards Bombay and the environment of entire India resounds with this proclamation. Srinagar and Sialkot
(a city in north Pakistan) have the same timing for Azaan. The time difference between Sialkot, Quetta,and Karachi is forty minutes, and within this time, Fajar Azaan is heard throughout Pakistan.
Before it ends there, it has already begun in Afghanistan and Muscat. The time difference between Muscat and Baghdad is one hour. Azaan resounds during this one hour in the environments of Hijaaz-e-Muqaddas (Holy cities of Makkah and Madinah), Yemen, United Arab Emirates, Kuwait and Iraq.
The time difference between Baghdad and Alexandria in Egypt is again one hour. Azaan continues to resound in Syria, Egypt, Somalia and Sudan during this hour. The time difference between eastern and western Turkey is one and a half hours, and during this time it is echoed with the call to prayer.
Alexandria and Tripoli (capital of Libya) are located at one hour's difference. The process of calling Azaan thus continues throughout the whole of Africa. Then the calling for Azan reaches the United States and Canada.
Therefore, the proclamation of the Tawheed and Risaalat that had begun in Indonesia reaches the Eastern Shore of the Atlantic Ocean after nine and half hours.
Prior to the Azaan reaching the shores of the Atlantic, the process of Zohar Azaan has already started in east Indonesia, and before it reaches Dacca, Asar Azaan has started. This has hardly reached Jakarta one and half hours later, the time of Maghrib becomes due, and no sooner has Maghrib time reached Sumatra, the time for calling Isha Azaan has commenced in Saibil! When the Muazzins of Indonesia are calling out Fajar Azaan, African Muazzins are calling the Azaan for Isha' and the American Muazzin are calling 'Asar Azaan of a different day! Masya'Allaah...
If we were to ponder over this phenomenon thoughtfully, we would conclude the amazing fact that there is not even a single moment when hundreds of thousands of Muazzins around the world are not reciting the Azaan on the surface of this earth. Even as you read this material right now, you can be sure there are atleast thousands of people who are hearing and reciting the Azaan!!!
Subhanallaah... Do we still dare to deny Allaah's signs?
Verily! In the creation of the heavens and the earth, and in the alternation of night and day, there are indeed signs for men of understanding. Surah Al-'Imran : Ayah 190
But those who disbelieve and belie Our Ayat (proofs, evidences, verses, lessons, signs, revelations, etc.) such are the dwellers of the Fire, they shall abide therein forever. Surah Al-Baqarah : 39
Allaah has promised His severe punishments to those who defy Allaah's signs
Ask the Children of Israel how many clear Ayat (proofs, evidences, verses, lessons, signs, revelations, etc.) We gave them. And whoever changes Allah's Favour after it had come to him, [e.g. renounces the Religion of Allah (Islam) and accepts Kufr (disbelief),] then surely, Allah is Severe in punishment. Surah Al-Baqarah : Ayah 211
Like the behaviour of the people of Fir'aun (Pharaoh) and those before them; they belied Our Ayat (proofs, evidences, verses, lessons, signs, revelations, etc.), so Allah seized (destroyed) them for their sins. And Allah is Severe in punishment.Surah Al-'Imran : Ayah 11
However, we must never forget that Allaah the Most Merciful and Forgiving
Will they not repent to Allah and ask His Forgiveness? For Allah is Oft­Forgiving, Most Merciful. Surah Al-Ma'idah : Ayah 74
Let us all reflect, exercise our thinking faculty and ponder upon the various signs that Allaah has provided us, in our nature and our environment; and among His creatures and creations like animals, plants, space, planets, stars, colors, rain, air, human body, rainbow and so many more. May Allaah fill our hearts with fear and humility. And May Allaah save us from His wrath and punishment, in this world and hereafter. More importantly, May Allaah fill our hearts with His light so that we are able to see His signs and become people of understanding. Isnt it beautiful and great if we can see and find other phenomena that reflect the greatness of Allaah, just like the Azaan? I am going to do just that, and i hope you can join me too! :))
Sis Zabrina
~ Your Source for Islamic Motivational and Inspirational Stories ~
Tags :
motivational stories
,
islamic stories
,
inspirational stories
,
spiritual stories
,
storyteller
,
muslim
,
islam
,
life is an open secret
,
motivational book
,
motivational quotes
,
short stories